Ultra-Vario-Sonic Cleaning System
GKM Ultra-Vario-Sonic System
This ultrasonic system delivers a much more efficient sieving action especially with very fine screen sizes. The throughput rate increases significantly on an equivalent surface area. Sieving in the range up to 20 µm is possible. In addition, blinding and sticking of difficult to screen products is prevented. This system is especially suited for hygienic/sanitary sieving requirements in the Food and Pharma Industries.
This system is designed so that it can be retrofitted on all new or existing screening machines.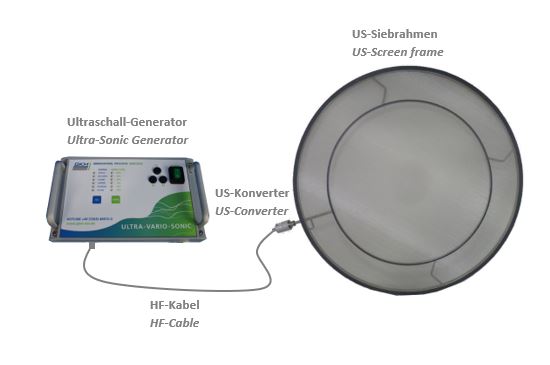 Operation
The Hi-Tech Sonic generator is controlled by a microprocessor which agitates the mesh cloth adhered to the sonic transference ring. The difference compared to convential resonance fixed frequency systems is the continuous amplitude and the variable frequency.
This system operates in such a way that ultrasonic waves are transferred over the entire screen surface area which reduces potential frictional resistance between the product and the screen. This simple patented method prevents the formation of resonance effects which can result in high temperatures ("Hot Spots"). It also reduces the mechanical strain on the screen frame and screen cloth. The amplitude and the frequency band width are adjustable for each screen and sieving application.
Features and benefits
Increase of product throughput, because powders pass through the sieve faster
Converter and cable outside the machine, therefore no danger of foreign particles in the product
Easy to use for

ATEX

requirements
Increase of the sieve quality
No damage of the mesh cloth by mechanical cleaning systems
Contamination-free screening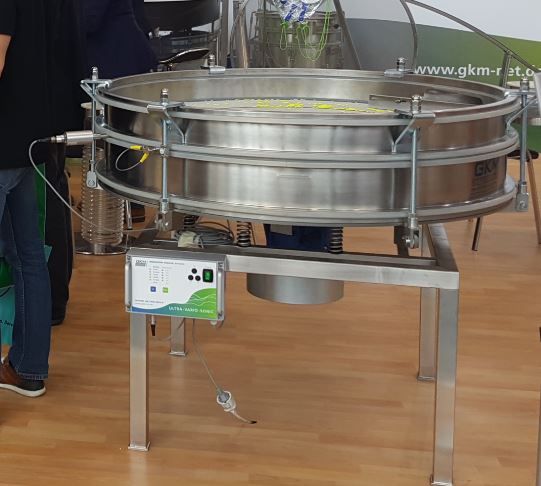 Datasheet-Ultra-Vario-Sonic System - 2 MB
Ultra-Vario-Sonic System