Pneumatic Screening Machine
Pressure-resistant control screening machine KTS-VP2
The KTS-VP2 control screener is suitable for inline use in all types of pneumatic conveying, one in particular being the truck unloading into silos. Adding this to the system guarantees optimum product quality and eliminates production downtimes & product recalls due to high reject rates. It has been specifically designed & built in accordance with the EU Pressure Equipment Directive 2014/68/EU offering the ability to withstand the pressure differences imposed by different processes & applications from -0.5 to 2.0 bar inline at any time.
Function
The machine has a robust design and is driven by two opposing vibration motors. The parts that come into contact with the product are made of stainless steel as standard, making the machine ideal for use in the food industry.
The inlet is located in the machine lid and is positioned tangentially with an offset to the left. The conveying gas creates a twist inside the control screening machine with a clockwise sense of rotation. The outlet is located in the bottom of the machine and is also positioned tangentially with an offset. The swirl caused by the conveying gas rotates also through the outlet. The vibration generated by the two vibratory motors creates a material feed that transports the product in a spiral in a clockwise direction. The outlet of the protective screening machine is arranged to ensure optimum product discharge.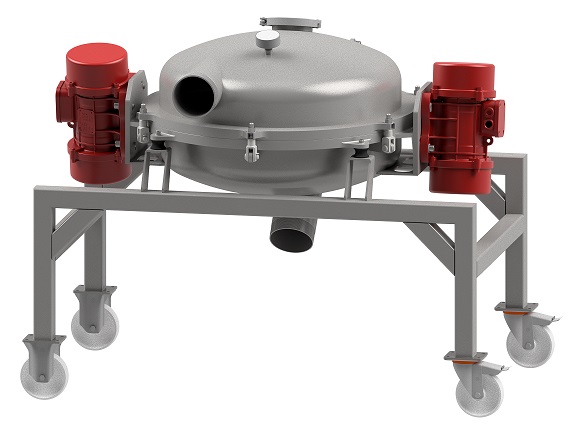 Most important advantages
• Suitable for suction and pressure conveying systems
• Air / Gas-tight design according to delivery pressure (-0.5 to 2 bar) Pressure Equipment Directive 2014/68/EU
• Effective policing of the product removing foreign bodies, impurities and lumps / agglomerates
• Hinged cover and gas spring for quick / easy access, cleaning, screen change & maintenance
Datasheet - 3 MB