Vibrating Control Screeners
GKM offers the following two Vibrating Control Screeners:
Vibrating Control Screener KTS-V2
Function
The machine is driven by two laterally attached vibration motors. The screen body can vibrate freely by means of dislocation via precisely adjusted springs. A vertical oscillation is generated at the centre which is ideal for control screening.
The fine product drops through the centre of the machine almost in free fall. Only in the direction of the outer edge of the screen is a slight transport movement attained which is sufficient for the discharge of the small quantities of oversize particles that occur.
The centrifugal force of the motors can be altered, as well the motor angle in order to adjust the retention time of the oversize particles on the screen. The screen frames are equipped with 2 grooves and 2 fixation rings which enable easy and fast re-meshing on-site without much experience or any special tools, particularly where fine-mesh fabrics are involved.
Most Important Advantages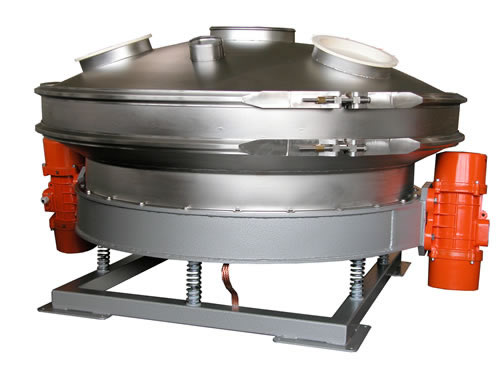 Good screening efficiency, extremely fast centre discharge of fine particles, adjustable retention time for oversize particles.
Delivered operationally ready and adjusted to each product.
Up to 3 fractions simultaneously on each machine.
High acceleration; also suitable for solid-liquid separation and wet products.
Up to 100% availability in 24h operation; maintenance-free motor.
Tough modular design with low part weights.
Automatic centring of screens and strong intermediate rings and covers for simple and fast assembly and screen changing.
Low construction height by means of reduced intermediate ring heights.
100% dust and waterproof thanks to U-shaped

EPDM

or Silicone gaskets on the screen frames.
Optimum set-up of the vibrating springs, minimal transfer of vibrations.
Easy dismantling and cleaning of all parts.
Low noise level of approx. 75 db(A).
Screen frames with twin-clamp rings for fast re-meshing on-site.
Favorable prices and short delivery times.
Data sheet
Data sheet KTS-V2 - 1 MB